Competitions
Competition of Candidates for Doctoral Projects – pursue your dream and conduct a ground-breaking PhD research project in a new formula of joint and doble degree!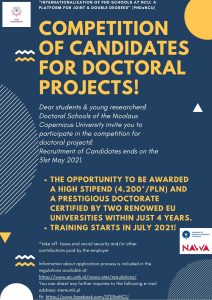 Are you a young researcher with a master's degree looking for an exceptional Doctoral Project? Do you want to obtain a high scholarship and conduct your doctorate in a new formula of double and joint degree?
We are looking for people with a passion for tackling big challenges and with a sustainable development goal in mind.
Choose one out of five exceptional Doctoral Projects and submit your application for a PhD position:
Apply today!
Deadline for submitting – 31 May 2021.

To find out how to apply read our regulations available at: https://www.ac.umk.pl/nawa-ster/regulations/