Vipul Swarup Bhatnagar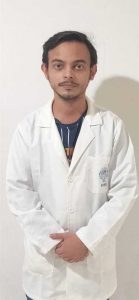 The first
and second
name
Vipul Swarup Bhatnagar
University
Nicolaus Copernicus University, Toruń, Poland
Faculty
Center for Modern Interdisciplinary Technologies
Discipline
Biology
Supervisor
dr hab. Krzysztof Zienkiewicz , prof. UMK
Co
supervisor
Prof. Zhi-Yan (Rock) Du, University of Hawaii at Manoa, College
of Tropical Agriculture and Human Resources, Department of
Molecular Biosciences & BioEngineering, USA.
Before being enrolled as a PhD student under the supervision of Prof. Krzysztof Zienkiewicz I (Vipul Swarup Bhatnagar) worked as Senior Research Fellow at Bioenergy centre of ICGEB New Delhi, India. I have done my graduation and post-graduation Bachelor of Technology (B.Tech thereafter) and Master of Technology (M.Tech thereafter) in Biotechnology, respectively.
My B.Tech capstone project was focused on Bio-ethanol production from agricultural waste was published in the Journal of Ecology, Environment and Conservation. In the duration of my B.Tech. program, I also attended 2 months training at Biotech Park, Lucknow, India that was based on QC/QA analysis and biodiesel production from Jatropha curcas. My M.Tech. research solemnly focused on biofuel production by degradation. So, "Optimization of physical pretreatment and electro stimulation based enhanced saccharification for the maximum breakdown of lignocelluloses" was my first choice for my Master's dissertation topic which was published in Journal of Chemical and Pharmaceutical Research and further application is been filed for patent. During the present course of my work at International Center for Genetic Engineering and Biotech at New Delhi, India I have come across the several molecular and culturing techniques i.e. up streaming and transformation of algal strains, designing of photobioreactors, cell-cell interaction with metabolomics studies, Schrödinger suite based simulations, molecular cloning, protein extraction, Lipid extraction and profiling studies. Our work onInteractions of algal strain with fungal strains, been published in BMC journal Biotechnology for Biofuel. These studies have made me realize the broad scope of algal biotechnology and its diversion towards various fields of biofuel research.
Read more
USOS Account: https://usosweb.umk.pl/kontroler.php?_action=katalog2/osoby/pokazOsobe&os_id=273785
Researchgate:
https://www.researchgate.net/profile/Vipul_Bhatnagar4
Scientific activities
Publications:
Vipul Swarup Bhatnagar, Prasun Bandyopadhyay, Girish H. Rajacharya, Sharanya Sarkar, Krishna Mohan Poluri and Shashi Kumar; Amelioration of biomass and lipid in marine alga by an endophytic fungus Piriformospora indica; Biotechnol Biofuels (2019)
12:176. https://biotechnologyforbiofuels.biomedcentral.com/track/pdf/10.1186/s13068- 019-1516-6
Vipul Swarup Bhatnagar, Neeta Raj Sharma and Sachin Kumar; Pretreatment of paddy straw for enhanced saccharification; Journal of Chemical and Pharmaceutical Research Vol.7 No.3: 2015 pp.914-920.
http://www.jocpr.com/articles/pretreatment-of-paddy-straw-for-enhancedsaccharification.pdf Robinka Khajuria, Geetanshu Goyal, Vipul S. Bhatnagar, Amandeep Singh and Loveleen Kaur; Production of bio-ethanol from agricultural wastes using Saccharomyces cerevisiae MTCC 170; Ecology Environment & Conservation Vol.20: 2014 pp.S293- S296.
http://www.envirobiotechjournals.com/article_abstract.php?aid=5641&iid=182&jid=3
Patent:
Inventors: Vipul Swarup Bhatnagar, Neeta Raj Sharma
Title: Saccharification of biomass using fungal co-culture coupled with electrostimulation
Date of Filing: March, 1st 2017
Date of Publication: Pending
Patent No.: 201711008957 A