Maciej Klimiuk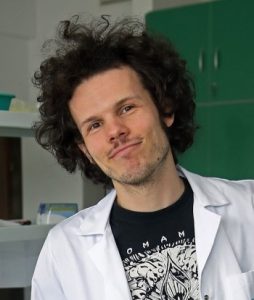 | | |
| --- | --- |
| The first and second name | Maciej Klimiuk |
| University | Nicolaus Copernicus University, Toruń, Poland |
| Faculty | Faculty of Biological and Veterinary Science |
| Discipline | Biology |
| Supervisor | prof. dr hab. Justyna Rogalska, Nicolaus Copernicus University, Poland |
| Co-supervisor | prof. Karol Dokładny, University of New Mexico, USA |
I graduated in Forensic Biology with a Bachelor's (2018) and Molecular Diagnostics with a Masters degree (2020) at Nicolaus Copernicus University.
My Bachelor thesis described a topic of opportunistic parasitism, while my Master's thesis dealt with the impact of exposure to extremely low frequency electromagnetic field on the mammalian stress-response systems. During my master studies I had a great opportunity to participate in different academic activities, including POWER workshops.
My main research interests are:
Neurodegeneration and neuroprotective mechanisms;
Impact of extremely low frequency electromagnetic field on mammalian organism;
General aim of my doctoral studies is to investigate methods of amplification of endogenous mechanisms of preventing brain damage. I decided to choose this topic because of my growing interest in neuroscience. I also really appreciate vast spectrum of interdisciplinary skill I could possibly learn during my doctoral studies.
https://www.bio.umk.pl/katedra-fizjologii-zwierzat-i-neurobiologii/pracownicy/mgr-maciej-klimiuk/
https://www.researchgate.net/profile/Maciej_Klimiuk2
E-mail address:
mklimiuk@doktorant.umk.pl