Monika Zięba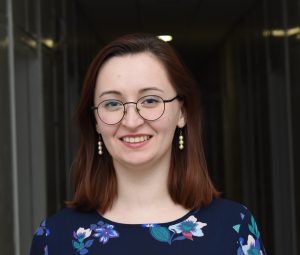 | | |
| --- | --- |
| The first and second name | Monika Zięba |
| University | Nicolaus Copernicus University, Toruń, Poland |
| Faculty | Faculty of Chemistry |
CURRENT SCIENTIFIC INTERESTS
Understanding the electrophoretic deposition process
Deposited carbon nanomaterials – preparation, modifications, composites and applications
Biocompatible and other bioactive surfaces based on carbon nanomaterials
EDUCATION 
2014–2017          Bachelor of Chemistry, "Synthesis of TiO2 nanostructures by electrochemical anodization and study of their properties"(supervisor dr hab. Aleksandra Radtke), Nicolaus Copernicus University in Toruń (Poland)
2017–2018          Master of Chemistry, "TiO2-well known unknown"(supervisor dr hab. Marek Wiśniewski, prof. UMK), Nicolaus Copernicus University in Toruń (Poland)
PARTICIPATION IN RESEARCH PROJECTS
Polish NCN, grant number OPUS 13 UMO – 2017/25/B/ST5/00975.
ADDITIONAL INFORMATION
Publications:
Radtke Aleksandra, Bal Monika, Jędrzejewski Tomasz
Novel titania nanocoatings produced by anodic oxidation with the use of cyclically changing potential: their photocatalytic activity and biocompatibility, Nanomaterials, Vol. 8 no. 9, 2018, DOI: 10.3390/nano8090712
Conferences:
28-29.06.2018 – Toruń – Poster "The photocatalytic properties and stability of TiO2 NP/activated carbon composites" on XII Copernican International Young Scientists Conference.
18-21.09.2017 – Portonovo, Ancona, Italy – Lecture "From biomaterials and tissue engineering characterization, modelling and visualization of stem cells and applications to regenerative cardiology and neurology" presented on the Training School COST Action CA16122, 1st Course.
Read more        
https://www.researchgate.net/profile/Monika_Zieba2
Scientific activities
6-7.06.2019 – Oral presentation "Całkowita kontrola – Rozmiar i właściwości tlenku grafenu", conference: NanoBioMateriały – od teorii do aplikacji