Liliana Siekacz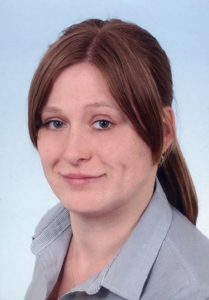 The first and second name
Liliana Siekacz

 

University
Nicolaus Copernicus University, Toruń, Poland
Faculty
Faculty of Biological and Veterinary Sciences
Liliana graduated her master degree in Geography at Adam Mickiewicz University in Poznań with the thesis: "Annual growth rings of dwarf shrub Salix polaris subjected to active layer detachment and solifluction processes in polar climate conditions (Ebbadalen, Spitsbergen)". Her research interests are focused on dendrochronology, especially on the information about past environmental changes encoded in tree rings related to geomorphic processes and climatic changes.
During her master studies, she participated in three research expeditions to Adam Mickiewicz University Polar Station in Svalbard where she collected material for her master thesis spending there more than half a year in total. She also spent a semester at Eötvös Loránd University in Budapest on Erasmus exchange.
In 2018 she has spent 2 months on an internship at the Laboratory of Tree Rings Research of the University of Arizona establishing cooperation with LTRR scientists dr Charlotte Pearson and dr Matthew Salzer and starting to work on her current doctoral project.
In her doctoral project, she's working to uncover information encoded in the microanatomical structure of radial increments of Great Basin bristlecone pine (Pinus longaeva) especially the understanding of the of blue rings phenomenon (unlignified ring structures) and the information about past climatic fluctuations induced by climatically effective volcanic eruptions.
Read more
https://www.researchgate.net/profile/Liliana_Siekacz2
Scientific activities       
Publications:
Refereed Journals
– Jessie K. Pearl, John R. Keck, William Tintor, Liliana Siekacz, Hannah Herrick, Matthew D. Meko, Charlotte Pearson, New Frontiers in Tree-Ring Research, The Holocene, Accepted for publication.
– Liliana Siekacz, Characteristic of Salix polaris radial increments exposed to landslides and solifluction. Proceedings of the Center for Nature and Forestry Education 48/3/2016, published in polish.
Conference proceedings
– Liliana Siekacz, Salix polaris growth responses to active layer detachment and solifluction processes in High Arctic. Geophysical Research Abstracts, Vol. 17, EGU 2015-686, EGU General Assembly 2015.
Book Chapters
– Liliana Siekacz, The morphology and granulometric composition of detachments of the active layer of perennial permafrost in Ebba Valley (Spitsbergen, Svalbard). In Contemporary problems and research directions in geography, Vol. 4, IGiGP UJ, Kraków 2016, published in polish.
– Grzegorz Rachlewicz, Krzysztof Rymer, Liliana Siekacz, Application of ground-penetrating radar in different high Arctic bedrock conditions. In G. Rachlewicz (ed.), 2017. Cryosphere reactions against the background of environmental changes in contrasting high-Arctic conditions in Svalbard. Institute of Geoecology and Geoinformation, A. Mickiewicz University in Poznań Polar Reports, vol. 2, Bogucki Wydawnictwo Naukowe, ISBN 978-83-7986-177-4, published in polish.
II. Participation in research projects:
– Collaborative Research: P2C2–Past Precipitation, Temperature, and Volcanism: Multi-Millennial Records from Three Co-located Bristlecone Pine Proxies PI: Dr Matthew Salzer. National Science Foundation.
– The Interdisciplinary Chronology of Civilizations Project" at the University of Arizona, founded in 2017 by the Malcolm H. Wiener Foundation. PI: Dr Charlotte Pearson.
III. Conferences:
– Marcin Koprowski, Werner Ulrich, Liliana Siekacz, Radosław Puchałka, Piotr Sewerniak, The return of the variance: tree-ring variability in two sites under the different water regime. The 6th Asian Dendrochronology Conference "A window to the world of Asian Dendrochronology" 24.11 – 30.11.2019, Lucklow, India.
– Matthew Salzer, Charlotte Pearson, Jacques Tardif, Andrew Bunn, France Conciatori, Liliana Siekacz, Malcolm Hughes, Blue-stained rings in ancient bristlecone pine as a volcanic proxy, 20th Congress of the International Union for Quaternary Research (INQUA), 25- 31.07.2019, Dublin, Ireland
IV Internships, research visits:
– 13.12.2019-20.12.2019 Forestry Research Institute, Sękocin Stary.
– 28.02-28.04.2018 Laboratory of Tree Ring Research, University of Arizona, Tucson, USA
V The organisation of scientific events:
– The Night of Biologists 2020- workshops: "From Spitsbergen polar shrubs to the oldest trees on Earth in California – what do the trees hide in their rings?"
Honors and Awards (Award/Institution/Date)
– 2nd award in Competition for the best Master Thesis; Department Geographical and Geological Sciences, Adam Mickiewicz University (26.11.2014),
–  2nd award for the best presentation; III Conference of Polish Dendrochronologists in Rogów (9-11.02.2016),
–  Travel Grant for participation in European Geosciences Union General 12-17.04.2015, Vienna, Austria,
–  Travel Grant for participation in the conference Tree Rings in Archeology, Climatology and Ecology; Association of Tree Ring Research (11-15.05.2016).