Julia Siepak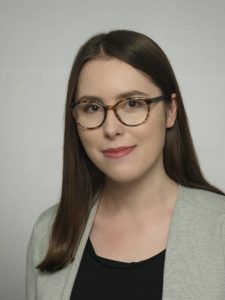 The first and second name
Julia Siepak

 

University
Nicolaus Copernicus University, Toruń, Poland
Faculty
Faculty of Humanities
Julia Siepak graduated with both a BA and an MA degree in English Studies from Nicolaus Copernicus University in Toruń, as well as, recently, with a BA degree in Interdisciplinary Studies (English and Native American studies) from Southern Oregon University. She is currently a graduate student at Interdisciplinary Doctoral School "Academia Copernicana" and an undergraduate student in Applied Linguistics: Italian and Spanish at NCU. Julia is a member of the Polish Association for Canadian Studies, as well as the Association for the Study of Literature and Environment (ASLE). She also carries out the function of the President of Academic Association for Doctoral Students of English at NCU.
Julia's research focuses on the poetics of space emphasizing intersections between the feminine and the environment in contemporary North American Indigenous fiction in English. Her academic interests encompass environmental humanities, postcolonial theory, posthumanism, literature of environmental justice, Indigenous studies, North American Indigenous literatures, and contemporary Anglophone fiction.
Read more
https://usosweb.umk.pl/kontroler.php?_action=katalog2/osoby/pokazOsobe&os_id=174553
https://torun-pl.academia.edu/JuliaSiepak
Scientific activities       
Conferences
"Exploring Trauma and Dissociation through Time Manipulations: Merging Temporalities and the Contemporary Indigenous Condition in Tracey Lindberg's Birdie" paper presented at University of Toronto's Centre for Comparative Literature's 29th Annual Conference: Timepieces, 29.03-30.03.2019, University of Toronto.
"Applying Tribal Critical Race Theory to Literary Studies" paper presented at 42nd Oregon Indian Education Association Annual Conference Creating Space for Indigenous Education: Sharing Our Struggles, Celebrating Our Successes, 9.05-10.05.2019, University of Oregon.
"Narrating Environmental Crisis: Dimensions of the Climate and Feminist Dystopia in Louise Erdrich's Future Home of the Living God" paper presented at The Association for the Study of Literature and Environment (ASLE) Biennial Conference: Paradise on Fire, 26.-30.06.2019, University of California, Davis.
"Two-Spirit Identities in Canada: Shades of the Indigiqueer in Joshua Whithead's Jonny Appleseed" presented at The 8th Congress of Polish Canadianists Canadian (Re)Visions: Futures, Changes, Revolutions, 25-27.09.2019, University of Łódź.
"Voicing Peripheries: Dimensions of Contemporary Two-Spirit Identities in Tommy Pico's Poetry" presented at XXXI Annual Conference of Polish Association for American Studies The Sound of Silence in American Literature, Culture and Politics, 23-25.10.2019, University of Opole.
"Recuperating Tastes of Home: Indigenous Food Sovereignty in First Nations Literatures" presented at The Italian Association of Canadian Studies International Conference Canada: Tastes of Home, 14-16.11.2019, Università degli Studi di Bari.
Publications
"Trauma, Grief, and Mourning: Exploring Loss in Louise Erdrich's LaRose," Currents. A Journal of Young English Philology Thought and Review 4/2018, pp. 84-98.
Foreign Study Experience
September 2018 – June 2019 Freda and Leonard T. Zawacki Scholarship at Southern Oregon University.