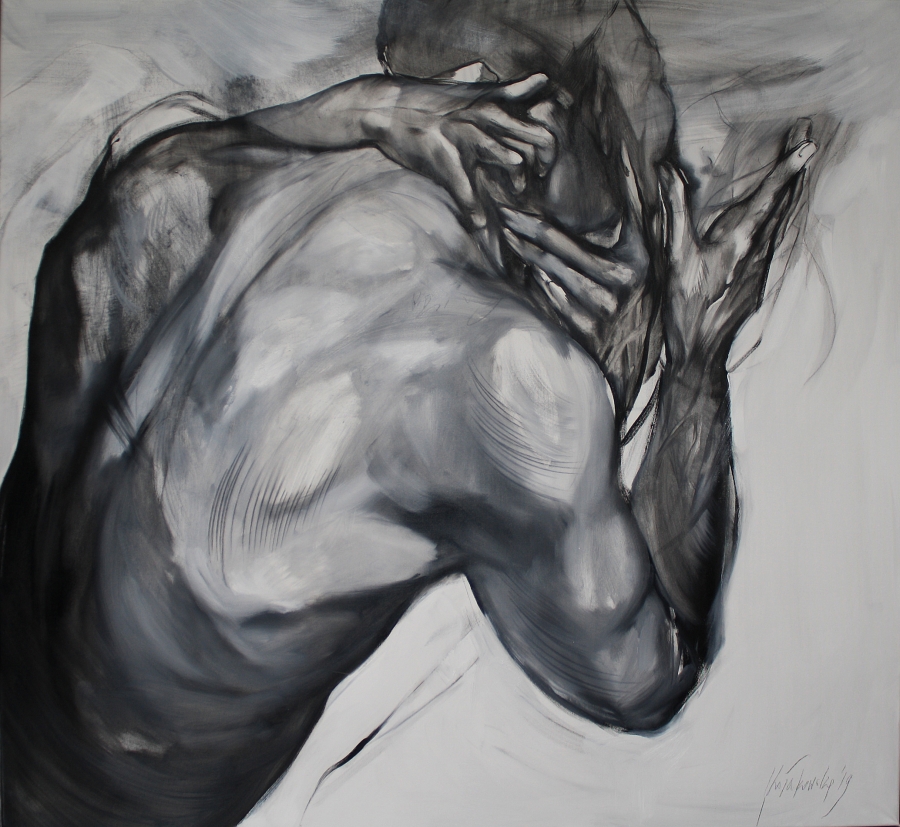 Vernissage of the individual exhibition of paintings and graphics by Ewelina Kołakowska entitled "Interludium / Niente" took place on September 13th.
"The title set of paintings and graphics, presented in the gallery space, is a continuation and development of the issues outlined in the artist's graduation work: Individum / Preludium. The main theme of Ewelina Kołakowska's composition, consistently black and white, still remains the naked human body, with the help of which the artist talks about desire, unfulfillment and the eternally unsatisfied longing for closeness. In Ewelina Kołakowska's latest, extremely emotional canvases, the faces contorted in grimaces and, masterfully developed, slender hands of the presented figures (which are de facto carriers of the work's content, interpretative signs for the viewer) are particularly important. Paintings are accompanied by a series of the latest, groundbreaking graphics, in which the artist explores the issue of the medium, creating the first prints in history of gravure printing plates designed and printed in 3D printing technology, which is the subject of the artist's doctoral dissertation". (Marcin Krajewski)
On 20.09. - 22.09. the weekend finissage of the exhibition took place, which was part of the annual weekend of Warsaw WARSAW BY ART galleries. Both on Saturday and Sunday, at 14:00, they prepared a special curatorial tour of the exhibition, which will be led by curator Marcin Krajewski.
Ewelina Kołakowska, born in 19.08.1993 in Świnoujście. Graduated from the Constantin Brancusi Art High School in Szczecin, specialization: Visual Advertising (2009-2013); Nicolaus Copernicus University in Toruń, Faculty of Fine Arts, specialization: Graphics art in the Intaglio Studio (2013-2018). Currently at the Interdisciplinary PhD Studies "Academia Copernicana" at the Nicolaus Copernicus University in Toruń. Assistant at the Department of Technology of Fine Arts. Represented Gallery "Pragaleria" in Warsaw. She participated in about 70 exhibitions in the country and abroad. Her works can be found in polish and foreign collections.
link to works: https://pragaleria.pl/aukcje-wystawy/ewelina-kolakowska/
link to the event coverage:
photo report from the exhibition in Pragalerii: https://pragaleria.pl/aukcje-wystawy/wernisaz-wystawy-eweliny-kolakowskiej-interludium-niente-fotorelacja/#js-auction-content

photo report from the second edition of the exhibition at the 6th Floor Theater - Palace of Culture and Science in Warsaw: https://pragaleria.pl/aukcje-wystawy/wernisaz-wystawy-eweliny-kolakowskiej-interludium-niente-w-teatrze-6-pietro-fotorelacja/#js-auction-content

link to information from Theater: https://teatr6pietro.pl/wystawy/ewelina-kolakowska-interludium-niente/